Tired of the fast-paced urban lifestyle that leaves you yearning for a change of scenery? 
Picture a weekend when honking cars and towering skyscrapers become a thing of the past, replaced by an escape filled with endless fun and adventure. Envision a place where worries dissipate, and you can fully immerse yourself in a world of excitement.
At Villa Excellance, we have curated a range of thrilling weekend activities that will make you forget all about the city blues. Whether you're seeking an adrenaline rush or simply looking to unwind and recharge, we have something for everyone.
Villa Excellance Beach & Wave Pool Resort is a haven of thrilling activities that will awaken your inner adventurer and provide an escape from the monotony of city life. Here are some of the exciting features you can look forward to:
1. Immerse yourself in a world of aquatic delights 
Infinity Pool: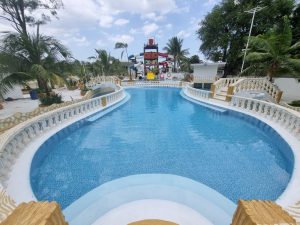 Indulge in limitless fun and create unforgettable bonding moments with your family and friends in our expansive infinity pool.
Wave Pools: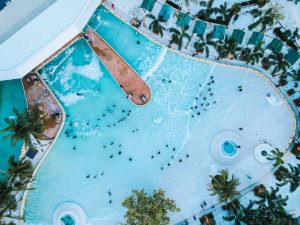 Experience the exhilaration of ocean-like waves in a safer environment with our three wave pools. Feel the splashes and immerse yourself in the beach-like atmosphere, enjoying quality time with your loved ones.
Pool with Slides: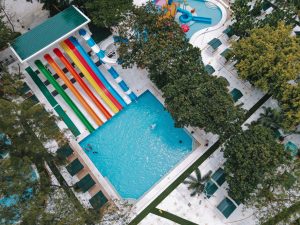 Brace yourself for extra thrills and excitement in our four slide pools featuring a range of heights and sizes. Release your inner child as you slide down into the refreshing waters, letting the joy and laughter echo through the air.
Read here to know more about the swimming pools available for all ages at the Villa Excellance Resort.
2. The fun doesn't stop when the sun sets! 
We're committed to keeping the excitement alive, even after dark. 
Prepare for an extraordinary experience with our Weekend Night Swimming, where our pool transforms into a vibrant playground under the moonlit sky.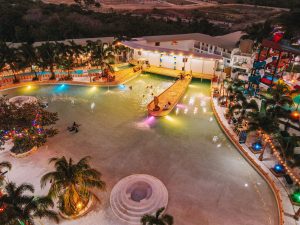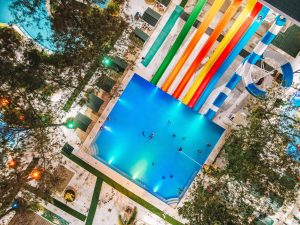 Immerse yourself in the sparkling waters as you enjoy live music and captivating performances held at our dynamic wave pool stage. 
This electrifying atmosphere will keep you enthralled and entertained until the break of dawn.
3. Get ready for an action-packed weekend



Prepare yourself for an unforgettable weekend at Villa Excellance, where we go above and beyond to ensure our guests are entertained with a variety of exciting events. From thrilling volleyball tournaments and vibrant weekend markets to invigorating Zumba dance sessions and exhilarating dancesport competitions, there's always something happening to keep you engaged and entertained. If relaxation and wellness are more your style, we also offer rejuvenating yoga and swimming classes. 
Don't miss out on these incredible activities! Keep an eye out for our weekend events on our FaceBook and Instagram pages,, and join us for a weekend filled with fun and unforgettable experiences.
4. Boardwalk Bar and Grill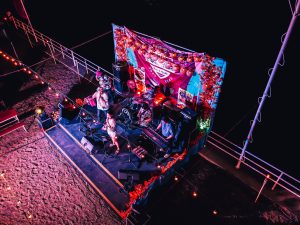 Indulge in a delightful dining experience at Boardwalk Bar and Grill, conveniently located within Villa Excellance Beach and Wave Pool Resort. Feast on mouthwatering dishes, including fresh seafood and delectable grilled specialties, while enjoying the panoramic views of the beach and resort.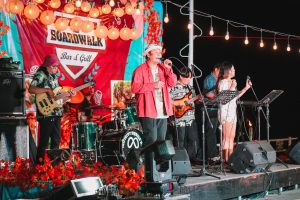 Villa Excellance Beach & Wave Pool Resort offers the perfect escape from the city blues, right on the doorstep of the Metro, conveniently located just a stone's throw away from the Metro, making it easily accessible for a quick and hassle-free journey. With our wide array of thrilling weekend activities, you can bid farewell to the hustle and bustle of urban life and embark on an adventure-filled getaway. 
Our goal is to provide you with an unforgettable weekend getaway where you can recharge, create memories, and return to the city feeling refreshed. Your weekend may be short, but we make sure it is nothing short of exceptional. 
So, if you're ready to escape the city blues and embark on an exciting adventure, look no further than Villa Excellance Beach & Wave Pool Resort. Book your stay with us today and get ready for an incredible experience that will leave you longing to return time and time again.
Read More