The holiday season is upon us, and what better way to celebrate than by indulging in some water-soaked fun at Villa Excellance Beach and Wave Pool Resort's sensational waterpark? Whether you're a thrill-seeker or prefer a more relaxed aquatic experience, this vibrant destination has something for everyone. 
Let's dive into five exciting activities that will make your holiday unforgettable.
Ride the Wave of Adventure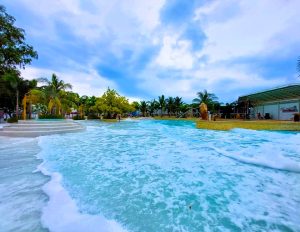 At Villa Excellance's waterpark, brace yourself for an exhilarating adventure as you ride the waves. The centerpiece of this aquatic wonderland is the wave pool—an area designed to mimic the excitement of the ocean's waves without leaving the resort. Feel the rush as you surf through the simulated tides, perfect for both seasoned wave riders and beginners looking to try their hand at this thrilling experience. The lifelike waves 
Slip and Slide into Fun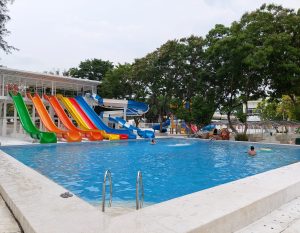 Prepare to scream with joy as you navigate the twisting and turning water slides that promise a heart-racing experience. The water slides at Villa Excellance are designed to cater to various levels of thrill, ensuring there's an option for everyone, from the daredevils seeking high-speed plunges to the more leisurely sliders looking for a relaxing ride down. It's the ultimate way to beat the holiday heat while creating lasting memories with family and friends.
Enjoy Family-Friendly Water Activities
For those looking for family-friendly activities, the waterpark offers a variety of options. From children's play areas with smaller slides and splash zones to interactive water features, there's no shortage of entertainment for the little ones. Kids can enjoy a safe and fun environment while parents can relax, knowing their children are having a blast in the supervised play areas.
Here are three waterpark games suitable for the entire family to enjoy together:
Water Limbo
Create a fun water limbo game using a stream of water or a pool noodle held by two people as the "limbo stick."
Instructions:
Establish a limbo area near a shallow part of the pool or water stream.

Pair up and take turns holding the "limbo stick" while others take turns bending backward and passing under it without falling or touching the water.

Lower the "limbo stick" after each successful round. The person who makes it under the lowest point without touching the water wins.
Giant Ball Relay Race
Get ready for a splash-tastic relay race using the Pacific Wave Pool Giant Ball!
Instructions:
Divide your family into two teams and line up on the pool edge.
Place the Giant Ball at the starting point, and the first players from each team dive into the water.
As they reach the ball, they must push it across the pool to their teammates waiting at the other end.
Once the ball reaches the other side, the next players in line take their turn, creating a thrilling relay race. The team that successfully completes the relay race first is crowned the Giant Ball Relay Champions! Enjoy the laughter and excitement as you make a splash with this family-friendly water game.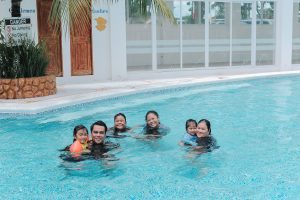 Water Treasure Hunt
Organize a thrilling water treasure hunt, where items are scattered in a shallow section of the pool or designated water area for discovery.
Instructions:
Scatter water-friendly items like colored rings, plastic toys, or waterproof objects in the water.

Assign a time limit and instruct participants to collect as many items as they can within that time.

The person or team that collects the most items within the time limit wins the treasure hunt.
These family-oriented water games offer an exciting way for everyone to bond, engage in friendly competition, and create lasting memories together in the waterpark's interactive zones. Adjust game difficulty and rules as needed to accommodate different age groups and ensure everyone can join in on the fun.
Accommodations for Big Groups
For larger family gatherings, Villa Excellance offers various spacious accommodations designed to fit the entire crew. Ranging from the Standard Villas to the Premier Pool Villas, there's a perfect fit for families seeking comfort and relaxation after a day of adventurous activities.
Standard Villas:
Ideal for accommodating 8 guests with cozy amenities including private bathrooms, verandas, and TV.

Premier Seaview Villas:
With a breathtaking view of Manila Bay, these villas cater to 10 guests with modern amenities and a spellbinding seaside experience.

Superior Seaview Villas:
Tailored for 8 guests, this villa offers extra space and convenience with access to pools and the beachfront property.

Deluxe Pool Villas:
A comfortable space for 8 guests offering easy access to the water park and beach.

Premier Pool Villas:
A glamping-inspired room with a pool view, perfect for 10 persons and includes a kitchen area for added convenience.

Suite Pool Villas:
Experience a 5-star resort feel with its own jacuzzi, accommodating up to 10 guests and providing an array of amenities for a luxurious stay.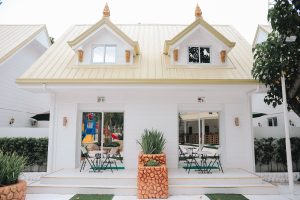 Not just about adrenaline-packed adventures, Villa Excellance offers spacious accommodations tailored for large family groups, ranging from Standard Villas to Suite Pool Villas. These accommodations provide a comfortable retreat after a day of water-based activities, ensuring that families have a relaxing and enjoyable holiday.
Villa Excellance Beach and Wave Pool Resort promises an extraordinary holiday filled with an array of thrilling water activities for all. It is not just a waterpark—it's a haven for family bonding, creating unforgettable moments, and fostering a deep sense of togetherness that transcends the holiday season.
Book for your holiday getaway today.