Company team-building events play a vital role in fostering teamwork, improving communication, and boosting morale among employees. 
However, to achieve these goals, you need the right activities and setting. 
That's where Villa Excellance Beach and Wave Pool Resort come in.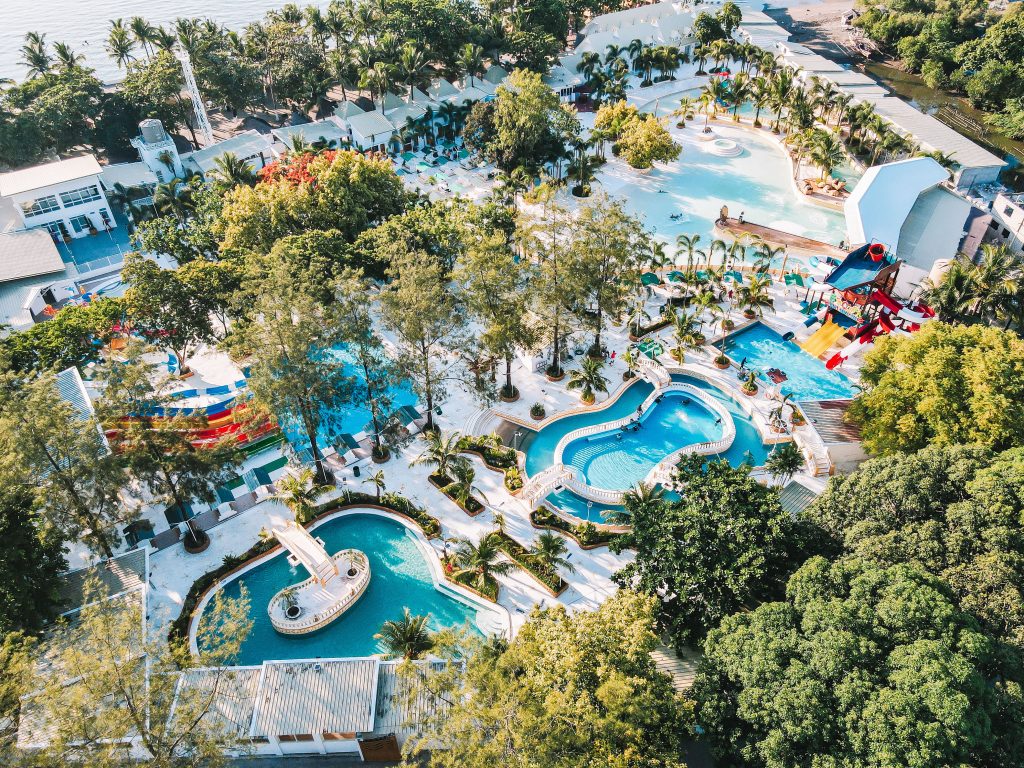 Nestled by the shores of Manila Bay, this picturesque paradise offers an ideal backdrop for corporate gatherings.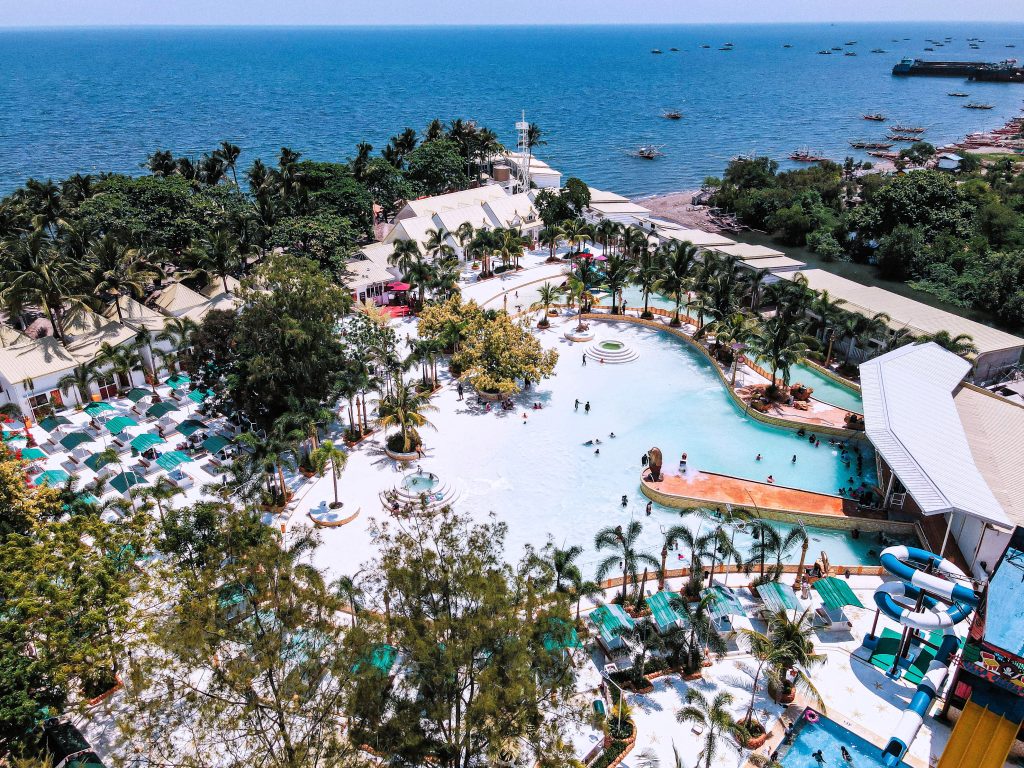 In this blog post, we'll explore an array of exciting and engaging team-building games and activities that can be enjoyed by groups ranging from 20 to 100 participants at Villa Excellance.
Beach Olympics
Embrace the sun, sand, and sea by organizing your very own Beach Olympics at Villa Excellance. This high-energy event is perfect for larger groups and promises a day filled with friendly competition and laughter.
Beach Volleyball:
Gather your colleagues for a thrilling game of beach volleyball. With the stunning Manila Bay in the background, this classic beach sport takes on a whole new level of excitement.

Beach Relay Races:
Divide your team into smaller groups and have them compete in a series of relay races on the sandy shoreline. From sack races to three-legged races, there's no shortage of fun options.
Tug of War:
Pit team against team in an exhilarating tug-of-war competition. It's a fantastic way to test strength and teamwork.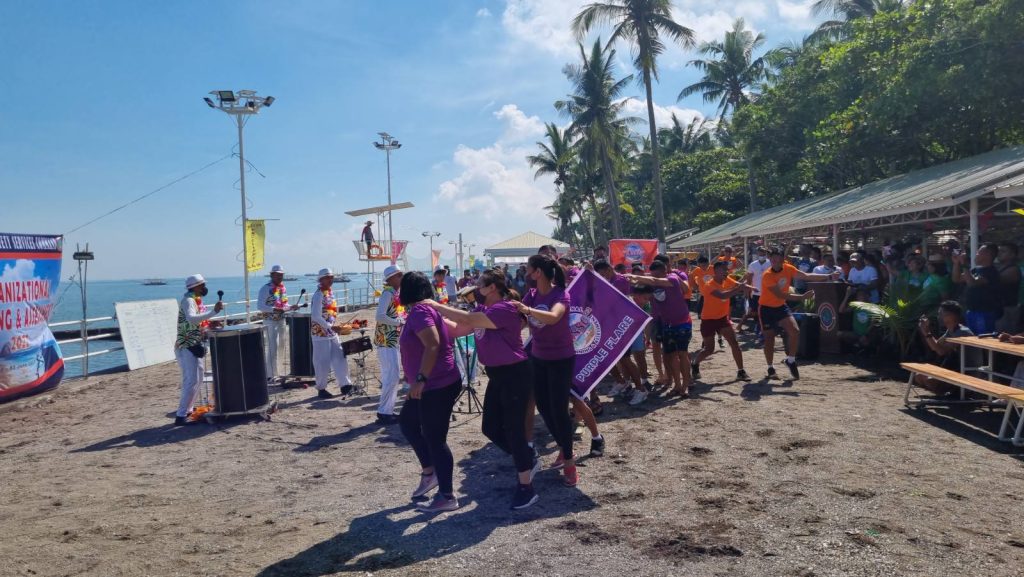 Beach Olympics not only promote teamwork and friendly competition but also allow your team to enjoy the beautiful natural surroundings. The beach provides a serene and calming atmosphere that helps foster camaraderie among your colleagues.
Water Park Adventures
Villa Excellance is not just a beachfront paradise; it also boasts a thrilling water park with a variety of pools and slides that can add an extra layer of excitement to your team-building event.
Float Relay:
This activity requires participants to navigate inflatable rafts across the pool while working together to reach the finish line. It's a fantastic way to encourage communication and coordination.
Wave Pool Challenges: 
Dive into the wave pools and take on a series of challenges as a team. Whether it's riding the waves or racing across the pool, these challenges will test your teamwork and swimming skills.
Water Balloon Toss:
Form pairs and test your accuracy in the classic water balloon toss. The goal is to keep the balloon intact for as long as possible while increasing the distance between you and your partner.
Slide Race
Experience the thrill of the pool slides and challenge your colleagues to a slide race. Who can reach the pool first and make the biggest splash?
Infinity Pool Games
Enjoy limitless fun and bonding moments in the infinity pool. Organize water-based games like water volleyball or water basketball for a fun and competitive experience.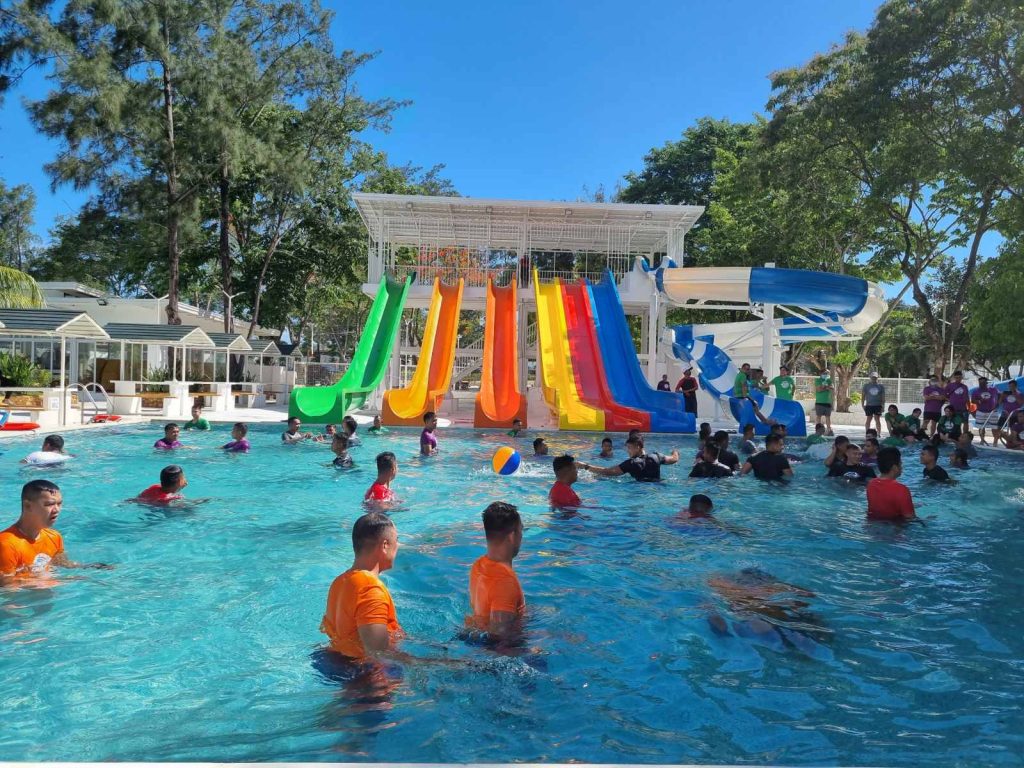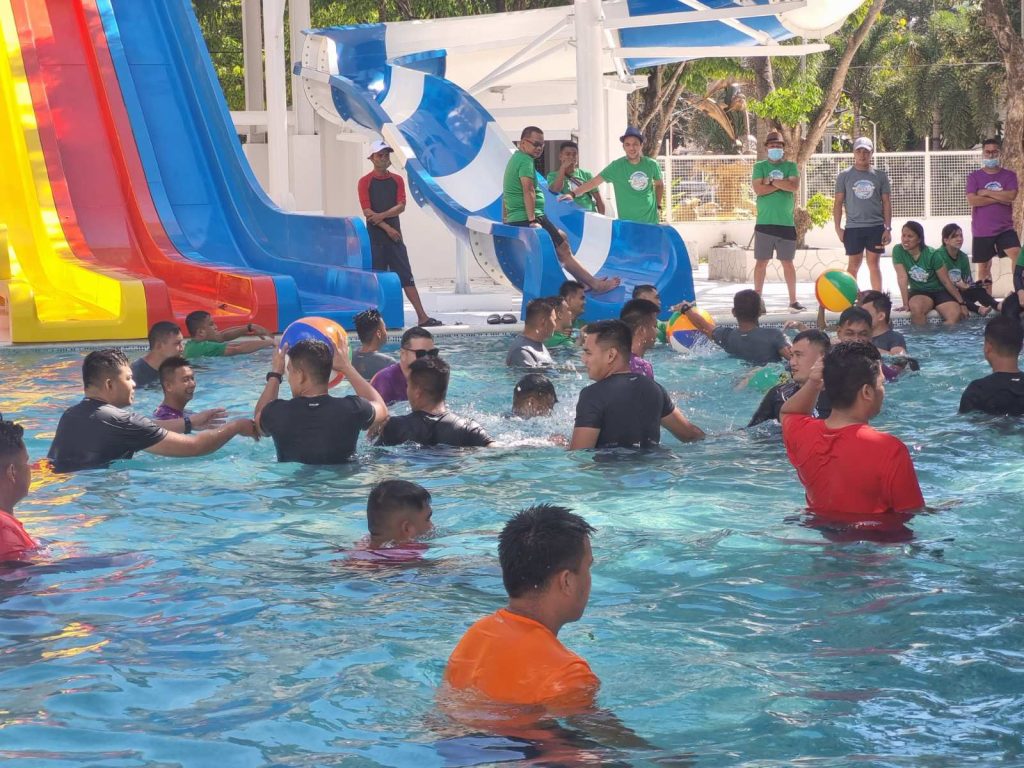 Adding water park adventures to your team-building event provides a dynamic and exhilarating dimension. It's a fantastic way to combine the refreshing elements of water with the thrill of competition.
Survivor-Style Team Building
If you're looking for a more strategic and adventurous experience, consider organizing a Survivor-style team-building event at Villa Excellance. It's an excellent choice for groups of varying sizes, from 20 to 100 participants.
Treasure Hunt:
Create a thrilling treasure hunt that will take your teams on an adventure throughout the resort. Clues, riddles, and problem-solving are key to discovering hidden treasures.
Team Challenges:
Break your group into smaller teams and have them compete in a series of physical and mental challenges inspired by the popular TV show "Survivor." It's a fantastic way to test your team's adaptability and strategy.
Survivor-style team building is not only thrilling but also encourages teamwork, problem-solving, and leadership skills. It's a unique opportunity for participants to step out of their comfort zones and develop new capabilities.
Outdoor Workshops and Seminars
For a more focused and educational team-building experience, consider utilizing the resort's function rooms for workshops and seminars. This approach is ideal for larger groups who seek a balance between learning and relaxation.
Leadership Workshops:
Empower your team with leadership skills through workshops and seminars. Encourage your employees to become better leaders within the organization.
Communication Skills:
Improve communication within your team by participating in interactive communication workshops. Learn how to express ideas effectively and enhance team dynamics.
Problem-Solving Exercises:
Engage in problem-solving exercises that require critical thinking and collaboration. These exercises are designed to enhance creative thinking and strategic planning.
Outdoor workshops and seminars offer a structured and educational approach to team building. They allow your team to develop valuable skills while enjoying the beautiful surroundings of Villa Excellance.
Discover your ideal outdoor workshop and seminar venue at Villa Excellence Beach and Wave Pool Resort! Click this link to explore your options for accommodating up to 300 team building members. Villa Excellence is fully equipped to host a wide range of meetings and events with our four versatile venue choices.
Villa Excellance Beach and Wave Pool Resort provides an array of team-building activities that cater to groups of 20 to 100 participants. Whether you prefer the energy of Beach Olympics, the refreshing poolside and water park challenges, the adventure of Survivor-style team building, or the focus of outdoor workshops and seminars, this paradise has it all. 
Plan your next company team-building event at Villa Excellance and watch your team bond, learn, and grow in this extraordinary setting.