Experience a wavepool paradise for adventure enthusiasts at Villa Excellance Beach and Wave Pool Resort, just a stone's throw away from Metro Manila! This thrilling destination will leave you breathless and craving for more!
The resort boasts a wave pool that will make your heart race with excitement. Imagine riding the waves, feeling the adrenaline rush through your veins as you conquer each swell. It's like being in the middle of an epic ocean adventure right in the heart of Cavite! 
Brace yourself for an array of exhilarating amenities that will leave you breathless. From heart-pounding water slides that twist and turn, challenging your courage with every turn, to relaxing lazy rivers that gently carry you along, Villa Excellance truly has it all.
1. The Magnificent Wave Pools:
Leave the city behind and immerse yourself in the excitement of three stunning wave pools located just a short distance from Metro Manila! Experience a beach-like adventure, feel the wave rush, and create lasting experiences in a safe and controlled environment at this water paradise.
The Wave Pools: Ride the Tidal Thrills!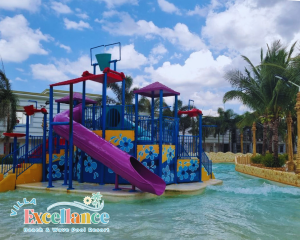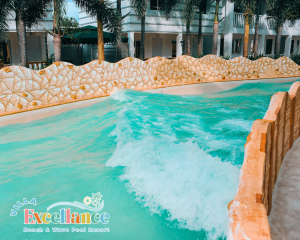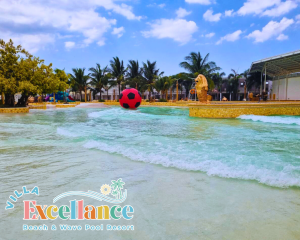 This water paradise features not only one or two, but three spectacular wave pools! With this trio of wave pools, you and your companions can relish boundless excitement and make lasting moments as a team.
Get ready to be swept away by the excitement of our wave pools. Feel the adrenaline rush through your veins as you conquer each swell, just like you would on the shores of a beach. 
Wave Pool Activities: Endless Fun for All Ages!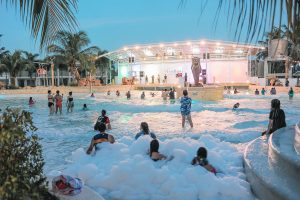 In our wave pools, the possibilities for fun are limitless. Ride the waves like a pro, or simply enjoy floating on the water and feeling the ocean-like currents beneath you. 
For families with young children, the smaller waves offer a safe and delightful experience. Don't forget to capture those precious moments on camera as you laugh, scream, and share the thrill of the waves with your loved ones.

Wave Pool Safety: Fun without Worries!
At Villa Excellance, safety is our top priority. Our wave pools are designed with state-of-the-art technology and professionally maintained to ensure a secure environment for all guests.
Lifeguards are always on duty, ready to assist and provide guidance if needed. So you can enjoy the waves with peace of mind, knowing that your safety is in good hands.
Unleash Your Inner Adventurer!
The wave pools at Villa Excellance Beach and Wave Pool Resort are not just a source of excitement; they're a gateway to unforgettable adventures. Whether you're seeking the thrill of riding powerful waves or looking to relax and enjoy the beach-like atmosphere, our wave pools have it all.
2. Infinity Pool: Dive into Endless Fun!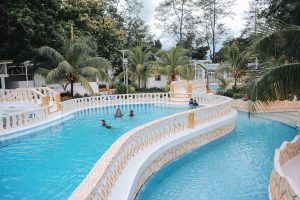 Get ready to plunge into limitless fun and laughter as you enjoy the infinity pool at Villa Excellance. This pool is not just about swimming; it's about creating cherished bonding moments with your loved ones. 
Enjoy the views that surround you, and let the vibe wash away your worries. Whether you're floating lazily or engaging in water games, the infinity pool is definitely a spot to unwind and relax.
3. Pool with Slides: Slide into Aquatic Adventures!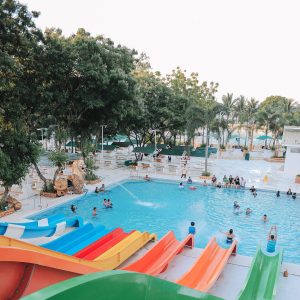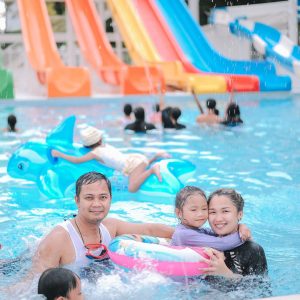 Calling all adventure seekers! Brace yourself for an aquatic adrenaline rush at Villa Excellance's pool with slides. Feel the surge of excitement as you ascend to the top and choose from four different heights and sizes of water slides. Then, hold on tight as you zoom down with a splash, landing into the refreshing waters below. It's an unforgettable aquatic adventure that will leave you with an endless craving for more adrenaline-pumping slides
Endless Activities and Weekend Fun:
Night Swimming at the Wave Pool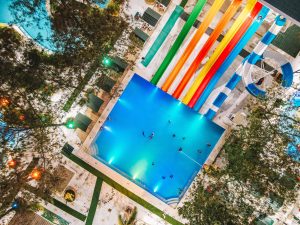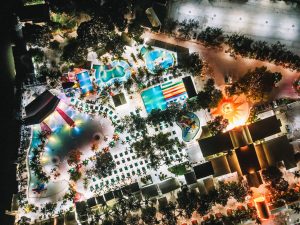 At Villa Excellance, the fun never stops, not even after the sun sets. Experience the magic of night swimming with lively entertainment, including live music and captivating performances at the wave pool stage, setting an electrifying ambiance.
Weekend Events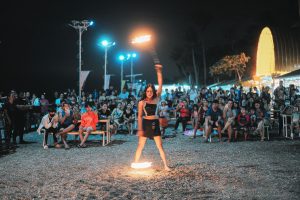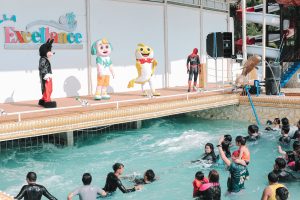 Get ready to embrace the excitement of weekends at Villa Excellance! Our resort hosts a wide array of thrilling events every weekend, ensuring there's something for everyone to enjoy.
To stay in the loop and never miss out on the fun, be sure to follow our social media pages. We'll keep you updated with all the exciting happenings, so you can plan your visit and make the most of your time at Villa Excellance Beach and Wave Pool Resort!
Impeccable Accommodations:
Nestled in close proximity to Metro Manila, Villa Excellance Beach and Wave Pool Resort takes immense pride in its rustic and contemporary designed villas, rooms, and cottages. With 4-star accommodations that boast modern amenities and conveniences, the resort provides a perfect retreat after a thrilling day of adventure and fun.
Take a look at the rooms by following this link.
Villa Excellance Beach and Wave Pool Resort is a haven of unforgettable fun and excitement. From captivating wave pools and thrilling water slides to creatively themed rooms, every aspect of the resort is designed to bring waves of joy to all guests. Located conveniently near Metro Manila, it offers an unparalleled experience for both adventure seekers and relaxation enthusiasts. 
Embrace the moments of fun and laughter as you create cherished memories in this enthralling water wonderland. 
Book your stay now and get ready to ride the waves of excitement at this world-class water park resort!