Craving an exhilarating escape from the city? Look no further than Villa Excellance Beach and Wave Pool Resort, where non-stop fun and thrilling aquatic adventures await just a short drive from Metro Manila. Get ready to immerse yourself in a whirlwind of excitement as we explore why Villa Excellance should be your go-to destination for an action-packed and unforgettable staycation experience.
1. Close Proximity to Metro Manila:
Adventure awaits at Villa Excellance – your thrilling escape mere hours from the bustling heart of Metro Manila! Leave behind the mundane cityscape and plunge headlong into a world of excitement and wonder. Bid farewell to tiresome journeys as you say hello to instant thrills and an enchanting playground of fun! 

2. Mind-Blowing Wave Pools:
Get ready to ride the waves like never before! Villa Excellance boasts mind-blowing wave pools that bring the beach experience right to your doorstep. Say goodbye to sandy shores and hello to safe and controlled wave action that will leave you screaming with delight. It's like having your very own personal beach party!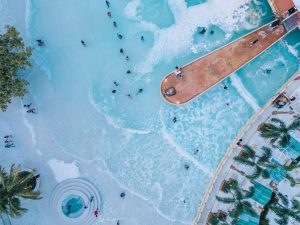 3. Thrilling Water Slides:
Calling all thrill-seekers! Villa Excellance is home to an array of jaw-dropping water slides that will have your heart racing and your adrenaline pumping. Take the plunge and feel the rush as you twist, turn, and splash into the refreshing pools below. Get ready for an epic adventure that will leave you begging for more!

4. Beachside Vibes and Epic Views:
Who needs a far-off beach when you have Villa Excellance? Lounge by the poolside and soak up the sun as you take in the epic views of Manila Bay. Feel the cool sea breeze on your skin, kick back with your favorite drink in hand, and let the vibrant beachside vibes transport you to a world of excitement and relaxation. It's the perfect blend of beach bliss and city convenience!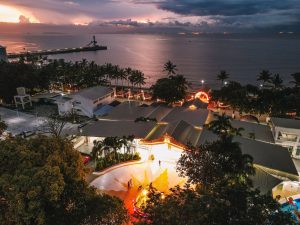 5. Family-Friendly Fun:
Villa Excellance is a playground for the whole family! Kids can splash around in the pools, make new friends, and embark on exciting adventures, while parents can unwind and bask in the joy of seeing their little ones have the time of their lives. The resort's dedicated staff ensures that every member of the family has a blast, creating unforgettable memories that will be cherished for years to come.

6. Thematic Rooms for Stylish Comfort:
After a day of non-stop action, retreat to Villa Excellance's cool and stylish thematic rooms. Each room is designed to provide a comfortable and trendy space where you can recharge and relax. Unwind in cozy beds, enjoy modern amenities, and surround yourself with the vibrant and playful atmosphere that Villa Excellance offers.
Check out the details of each room type here; Our Rooms and Villas 
7. Exciting Activities for All:
At Villa Excellance, the fun never stops! Dive into a world of excitement with a range of thrilling activities and entertainment options. From beachside games and sports tournaments to live performances and mesmerizing fire dancers, there's always something happening to keep you entertained and on the edge of your seat. Get ready to create epic memories that will have you grinning from ear to ear.
Are you ready for an unforgettable aquatic adventure? Villa Excellance Beach and Wave Pool Resort is your ticket to endless fun just moments away from Metro Manila. With its close proximity, mind-blowing wave pools, thrilling water slides, beachside vibes, family-friendly atmosphere, trendy thematic rooms, and non-stop activities, Villa Excellance is the ultimate destination for an action-packed and exhilarating staycation.
Don't wait another moment! Dive into the excitement and book your aquatic adventure at Villa Excellance Beach and Wave Pool Resort today.
Get ready to make a splash, create unforgettable memories, and experience the thrill of a lifetime!