Located in Cavite, Villa Excellance Beach and Wave Pool Resort is the ultimate destination for those seeking an unforgettable school break experience with friends. With its stunning setting and exceptional amenities, this resort offers the perfect opportunity to relax, unwind, and create lasting memories. 
From exciting water sports and thrilling waterslides to beach volleyball and the soothing infinity pool, Villa Excellance has something for everyone. Come and discover the ideal getaway where fun, adventure, and relaxation await you and your friends at Villa Excellance in Cavite.
Let's dive into the highlights of Villa Excellance and discover why it's the ultimate barkada getaway!
1. Rooms and Villas:
At Villa Excellance, you and your barkada can experience comfort in their well-appointed rooms and villas. Each accommodation is designed to ensure a comfortable stay by featuring modern amenities. 
Choose from a range of rooms and villas, each designed with modern amenities to ensure a relaxing stay. From cozy cottages to spacious villas, there's an option for every group size. Whether you prefer a standard villa, seaview villa, pool villa, or deluxe villa, you'll have comfortable beds, private bathrooms, and breakfast included. 
Check out the details of each room type here; Our Rooms and Villas 
2. Wave Pools and Pools with Slides:

Get ready for endless hours of water fun at Villa Excellance's wave pools and water slides. Dive into the cool waters and ride the waves with your friends, creating memories that will last a lifetime. Whether you're a thrill-seeker looking for an adrenaline rush or simply want to chill by the poolside, these water attractions offer something for everyone in your barkada.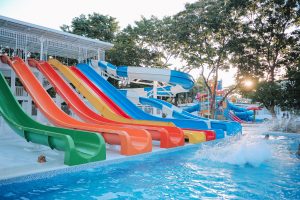 Read this blog to learn the different swimming pools Villa Excellance Beach and Wave Pool Resort has to offer
3. Infinity Pool:
Indulge in the beauty of Villa Excellance's infinity pool, where the shimmering waters seem to blend seamlessly with the horizon. Immerse yourself in a state of pure relaxation as you take in the panoramic views and bask in the sun. The infinity pool provides the perfect backdrop for Instagram-worthy photos and moments of serenity with your barkada.
4. Weekend Night Swimming:
Looking to add some excitement to your evenings? Villa Excellance offers the unique experience of weekend night swimming. Picture yourselves under the stars, enjoying a refreshing swim with your friends while the pool is illuminated by vibrant lights. This exclusive activity is sure to create a magical atmosphere and make your barkada getaway truly unforgettable.
5. Weekend Events:
Villa Excellance is all about ensuring our guests have a great time. During the weekends, we offer a variety of events that cater to different interests. You can participate in volleyball tournaments, explore vibrant weekend markets, join lively Zumba dance sessions, watch thrilling dance sport competitions, and even relax with yoga and swimming classes.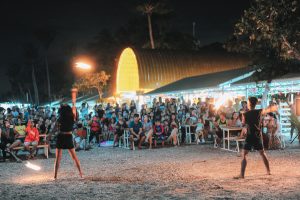 We also have special weekends where you can meet your favorite mascots, be mesmerized by fire dancers, enjoy dazzling fireworks, and groove to the tunes of our talented weekend welcome band. These activities are all about creating fun experiences and making lasting memories.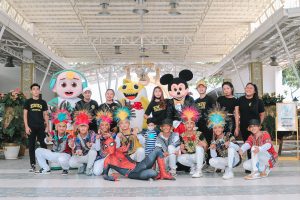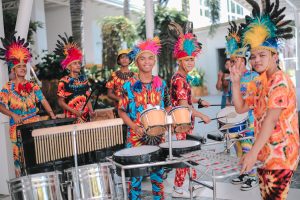 Watch out for all of these fun activities, it surely is something you don't want to miss!
6. Boardwalk Bar and Grill:
To satisfy your taste buds and add to the overall experience, Villa Excellance features the vibrant Boardwalk Bar and Grill. Indulge in a delectable selection of dishes, ranging from mouthwatering appetizers to sumptuous main courses and tempting desserts. Enjoy your meal in a lively atmosphere with your barkada, making each dining experience a memorable one.
Villa Excellance Beach and Wave Pool Resort is the ultimate barkada getaway for your school break. With its luxurious accommodations, thrilling water attractions, exciting weekend events, and the vibrant Boardwalk Bar and Grill, this destination offers everything you and your friends need for an unforgettable vacation. 
Gather your barkada, pack your bags, and get ready for an epic school break filled with unforgettable memories at Villa Excellance.