Villa Excellance Wave Pool and Beach Resort is where extraordinary team-building experiences become a reality. Located in the beautiful province of Cavite, just outside Metro Manila, our resort offers the perfect blend of natural beauty, exciting amenities, and top-notch facilities to make your team-building event a resounding success. 
Whether you want to strengthen team bonds, promote teamwork, or simply reward your hardworking team, Villa Excellance is the ultimate destination for team-building in 2023.
A Breathtaking Setting: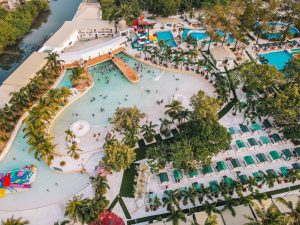 Villa Excellance Beach and Wave Pool Resort in Cavite offer a breathtaking setting for team buildings with its state-of-the-art facilities and world-class service. From the moment you arrive, you are greeted with a stunning water park that promises thrilling and exciting fun activities. The resort's thematic rooms provide a unique and immersive environment, while the water slides, wave pools, and beach views create a picturesque backdrop for team bonding. With an array of amenities designed to cater to team activities, such as sports facilities and adventure options, Villa Excellance ensures that teams can engage in productive and enjoyable experiences. 
Thrilling Wave Pool: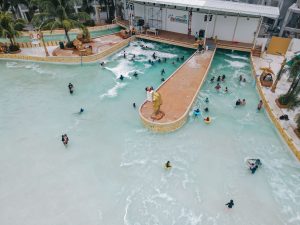 One of the highlights of Villa Excellance is our state-of-the-art wave pool, designed to provide an exhilarating experience for everyone. Perfect for team-building activities, the wave pool offers an exciting environment for your team to bond and enjoy aquatic adventures. Whether it's riding the waves, participating in water-based challenges, or simply lounging by the poolside, the wave pool ensures endless fun and excitement.
Team-Building Thrills on our Boardwalk: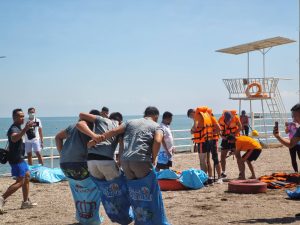 Our boardwalk at Villa Excellance offers an incredible setting for various teambuilding activities, making it a standout feature. Whether your team enjoys a competitive game of volleyball, a thrilling tire brigade challenge, or engaging rope games that require strategic coordination, our picturesque boardwalk provides the ideal platform for these energizing experiences.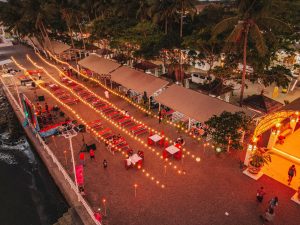 After an exhilarating teambuilding session, there's no better way to unwind than to gather at the Boardwalk Bar & Grill. Indulge in delicious food and refreshing drinks while soaking in the mesmerizing hues of the sunset. Whether you're savoring mouthwatering burgers, enjoying crisp salads, or raising a glass to celebrate your team's accomplishments, our waterfront setting creates the perfect backdrop for relaxed conversations and bonding moments. At the Boardwalk Bar & Grill, you'll find the ideal combination of great cuisine, stunning views, and the joy of shared experiences.
The Perfect Venue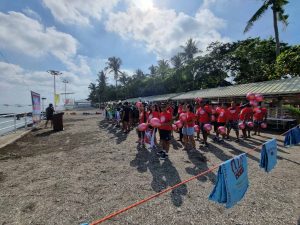 At Villa Excellance, we understand the importance of team dynamics and engaging experiences that foster collaboration and camaraderie. We take pride in offering a stunning venue for team-building activities where you can create memorable moments with your team. Please note that while we provide the perfect setting, we do not directly facilitate these events. However, if you require a facilitator, we are more than happy to recommend a trusted outsourced professional who can guide and enhance your team-building activities.
Impressive Facilities and Amenities:
To ensure a seamless experience, Villa Excellance provides a range of facilities and amenities to meet all your team's needs. Our spacious event venues can accommodate both small and large groups, offering flexible setups for meetings, presentations, and workshops. Additionally, our resort features comfortable accommodations and delicious dining options.
Exciting Weekend Activities 
Villa Excellance Beach and Wave Pool Resort goes the extra mile to offer an array of exciting weekend activities that are tailor-made for team bonding. Teams can partake in thrilling beach volleyball tournaments, engaging team-building games on the sand, or invigorating group exercises by the wave pools. Additionally, the resort provides a unique opportunity for teams to unwind and relax after a productive day with weekend night swimming, allowing them to bask under the starry sky and delight in the enchanting ambiance created by the illuminated water attractions. 
Villa Excellance Wave Pool and Beach Resort is undeniably the ultimate teambuilding venue in Cavite for 2023. Whether you're aiming to strengthen relationships, boost teamwork, or simply reward your hardworking team, Villa Excellance provides the perfect environment to achieve your goals. So, don't miss out on the opportunity to create lasting memories and foster camaraderie amidst the stunning surroundings of Cavite. 
Book your team-building event at Villa Excellance today and embark on an extraordinary journey of fun, adventure, and team growth.