When it comes to creating lasting memories and building strong family bonds, few things compare to spending quality time together. And what better way to do that than by diving into fun and creativity through aquatic games? Villa Excellance Beach and Wave Pool Resort in Cavite offer an array of exciting water-based activities that can be enjoyed by family members of all ages. 
In this blog post, we will highlight five fantastic games that will bring joy, laughter, and a sense of adventure to your family's beach vacation.
Wave Rider Relay: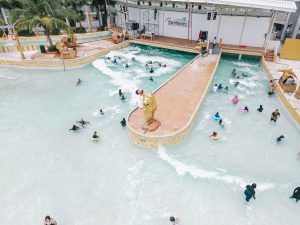 Grab a float or a boogie board and get ready for a thrilling relay race on the wave pool! Divide your family into teams and have each member ride the waves, racing against the clock. The goal is to complete the relay in the shortest time possible. This game not only brings out the competitive spirit but also encourages teamwork and coordination.
Slide Olympics: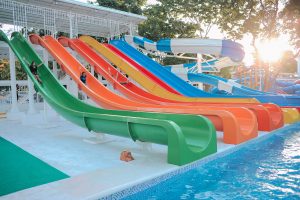 Villa Excellance boasts a variety of exhilarating water slides, making it the perfect setting for a Slide Olympics event. Set up a mini-competition where family members can challenge each other to slide races, judge style points for tricks, and even create synchronized slides. With different slides to choose from, everyone can find their favorite and showcase their sliding skills. Let the games begin!
Water Balloon Toss:
Who doesn't love a classic water balloon toss? Head over to the spacious areas near the wave pool and engage in a friendly water balloon battle. Split into pairs, face each other, and toss the balloons back and forth. Step back after each successful catch, increasing the distance between you and your partner. The last pair with an unburst balloon wins! This game guarantees laughter, fun, and a refreshing splash on a sunny day.
Underwater Treasure Hunt: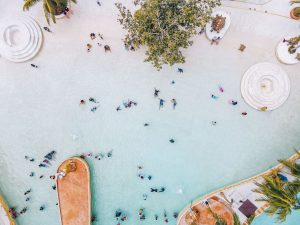 For a more immersive experience, try organizing an underwater treasure hunt. Before the game begins, scatter a variety of small waterproof toys or objects throughout the shallow parts of the wave pool. Provide each family member with a small net or bucket to collect the treasures. Kids and adults alike will enjoy diving beneath the surface, exploring the pool, and discovering hidden gems. The joy of finding treasure together will create lasting memories for your family.
Float Race: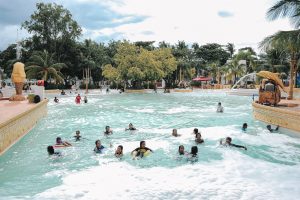 What better way to enjoy the wave pool than with a friendly float race? Choose your favorite inflatable tubes, pool noodles, or floating devices, and set up a race course in the pool. Family members can paddle their way to victory, testing their speed and agility. The race can be as straightforward or as elaborate as you like, with twists, turns, and obstacles to make it even more exciting. Don't forget to cheer each other on and celebrate the winner with a post-race splash!
Villa Excellance Beach and Wave Pool Resort in Cavite offers a fantastic opportunity for families to dive into fun and creativity through a range of aquatic games. From relay races and slide competitions to water balloon tosses, underwater treasure hunts, and float races, there's something for everyone to enjoy. These games not only provide hours of entertainment but also foster bonding, teamwork, and a sense of adventure.
So gather your loved ones, head to Villa Excellance, and create unforgettable memories while making a splash in the wave pool and zooming down the slides!