10 Things That Make Villa Excellance Beach & Wave Pool Resort the Perfect Holiday Getaway for Friends in Metro Manila
Calling all thrill-seeking friends in Metro Manila! Are you on the lookout for an epic holiday escape that's just a stone's throw away from the city? Look no further than Villa Excellance Beach & Wave Pool Resort! This hidden gem is your ticket to a tropical paradise brimming with excitement and relaxation, all within easy reach of Metro Manila. 
Get ready as we unveil the top ten reasons why Villa Excellance is the ultimate haven for you and your squad to create unforgettable memories at any time of the year
1. Paradise around the corner
Villa Excellance Beach & Wave Pool Resort is located just a short drive away from Metro Manila. No need to endure long hours of travel or experience heavy traffic! In less time than you'd expect, you and your friends can find yourselves in a relaxing and fun place, far from the stresses of city life.
2. Waves of convenience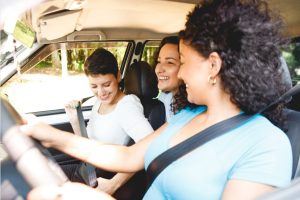 Accessibility is a top priority when planning a vacation, especially with a group of friends. Villa Excellance is easily accessible via private or public transportation. Whether you prefer to drive or take a bus, reaching this resort is hassle-free, ensuring a smooth and enjoyable journey for everyone.
3. Breathtaking wave pool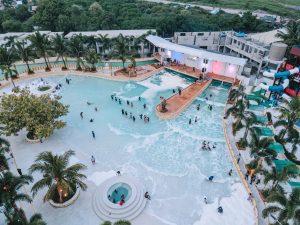 Dive into the excitement at Villa Excellance's stunning wave pool. Imagine the joy of riding the waves with your friends, splashing around, and creating unforgettable memories together. The resort's wave pool is a perfect spot for fun and relaxation, giving you a taste of beach life without venturing far from the city.
4. Thrilling Water Slides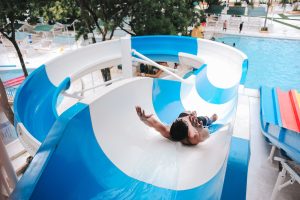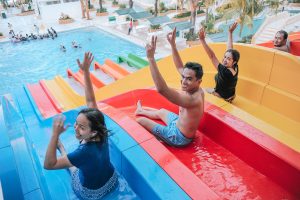 Indulge in the excitement of gliding down water slides and catching waves in the wave pool at Villa Excellence. The resort boasts four slides suitable for all ages, providing guests with a thrilling and invigorating experience. From vibrant and colorful slides to a captivating spiral one, these attractions cater to all preferences, offering a variety of speeds for riders to enjoy.
5. Accommodations:
Rest and relaxation are key components of any perfect holiday getaway. Villa Excellance boasts luxurious accommodations that cater to various group sizes. From cozy rooms to spacious villas, each accommodation option is designed to provide comfort and tranquility, ensuring a rejuvenating stay for you and your friends.
Read through this link to learn more about the various accommodations Villa Excellance has to offer
6. Scenic Views
Villa Excellance offers a picturesque backdrop for your holiday escapade. Whether you're lounging by the pool or exploring the resort's grounds, you'll be treated to breathtaking views at every turn. Take advantage of the resort's scenic locations to capture Instagram-worthy moments with your friends.
7. Delicious Dining Options
Excitingly, a variety of delightful dining options will soon be available at Villa Excellance. You can savor exquisite culinary experiences at the resort's on-site restaurants, which will offer a diverse selection of mouthwatering dishes from both local and international cuisines. Prepare yourself for a gastronomic adventure, where you can enjoy fantastic meals and create lasting memories with your friends.
8. Weekend Activities
Get ready for an unforgettable weekend at Villa Excellance! We have a wide range of exciting events to keep you entertained. From thrilling volleyball tournaments and vibrant weekend markets to invigorating Zumba sessions and exhilarating dancesport competitions, there's something for everyone. If relaxation is more your style, we offer rejuvenating yoga and swimming classes. Stay updated on our FaceBook and Instagram pages for event details. Join us for a weekend full of fun and unforgettable experiences. Don't miss out!

 9. Boardwalk Bar and Grill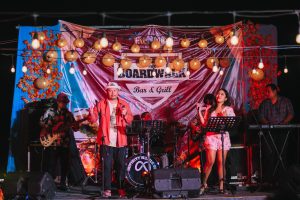 Treat yourself to an incredible dining experience at Boardwalk Bar and Grill, right at your fingertips, within Villa Excellance Beach and Wave Pool Resort. Indulge in a variety of delectable dishes featuring fresh seafood and tantalizing grilled specialties, all while soaking in the stunning panoramic views of the beach and the resort
10. Exceptional Service and Hospitality:
Experience a level of service and hospitality that will make you feel like royalty. Villa Excellance takes pride in going above and beyond to ensure your stay is nothing short of extraordinary. 
With Villa Excellance Wave Pool and Beach Resort conveniently located a short distance from Metro Manila, you and your friends can embark on the ultimate adventure without the hassle of long-distance travel. The proximity of Villa Excellance to Metro Manila allows you to make the most of your vacation time.
So why search far and wide for the perfect holiday getaway when Villa Excellance Beach & Wave Pool Resort is just a hop, skip, and a jump away from Metro Manila? Embrace the convenience, revel in the excitement, and create lifelong memories with your friends at this tropical haven that promises an unforgettable retreat. Your perfect escape awaits, so pack your bags and get ready for an incredible journey just around the corner!