Contributed by: Nomadic Experiences
Going out on a "swimming excursion" as it is called during my younger years, is one of the most favorite family activities. As a child growing up, I recall yearly trips to Pansol, Laguna because back then, that was the swimming capital of the Philippines. I bet most Generation X and Millennials learned to swim in the hot spring waters of Laguna. You could say the options on where to go during those days for some water fun is limited. However, as decades roll by, several establishments started popping up. Today, a growing list of water park attractions and resorts are delivering world-calls amenities offering thrilling water activities that provide families a venue to bond and have heaps of water fun.
From a long list, we highlight 9 of the most popular waterpark attractions and resorts in the Philippines.
Villa Excellance Beach and Wave Pool Resort | Cavite
Already a popular family outing destination in Cavite, Villa Excellance Beach and Wave Pool Resort further enhances its quality of excellence by undergoing a massive rebranding and renovation during the pandemic. The result is total new-look resort offering world-class fun water activities.
The resort now features 8 swimming pools of various sizes and with slides of different heights including a wave pool, 3-restaurant outlets, a planned grand ballroom to go along with its modernly designed staycation spaces comprised of rooms with different themes.
As already as grand as its current state, the future holds more exciting things for Villa Excellance as the management gears up for more additions such as a 4-star hotel and inflatable water park to be set-up on its beach property.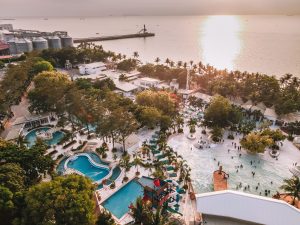 Jpark Island Resort and Waterpark | Cebu
Located in Mactan island in Cebu and with future expansion in Panglao, Bohol and Palawan, Jpark Island Resort and Waterpark prides itself as the country's only 5-star Waterpark Resort. It boasts of a 17-hectare property with 568 rooms, villas and suites plus six themed swimming pools, 10 restaurants, dive shops, a private beach plus activity zones like the Pororo Indoor Park — based on the popular Korean children 3D anime show "Pororo: The Little Penguin".
Apart from that, Jpark unveiled in 2019, its refurbished Triton Ball which can sit 1,500 people in a Banquet setting and 2,000 guests in a Theatre setting.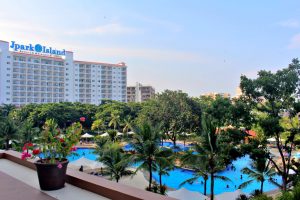 Aqua Planet | Pampanga
Like its name suggests, this waterpark take you to another planet. One that is set in a dizzying maze of waterslides and waterdrops producing thrills to no end.
Sitting on a 10-hectare property inside Clark Freeport Zone in Pampanga, Aqua Planet laud itself as one of the most modern water theme park in Asia with 38 water slides and other amenities. Top attractions include the Aqua Loop, the Hurricane — a spiral maze of several slides, and the Superbowl, a huge spiral tube where a four-person raft slides down twirling, among many others.
Dining areas and shops dots the whole property giving guests on a brief break from their exhilarating water activities ample things to do.
While it doesn't have any accommodations for now, a day trip here is enough to experience a memorable day since Aqua Planet also holds entertainment shows on a performance stage set up in their wave pool.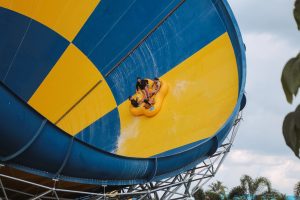 Seven Seas Waterpark and Resort | Cagayan de Oro
This pirate-themed waterpark in CDO is visited by guests from all over Mindanao and have water attractions likened to some big waterparks such as Aqua Planet.
Boasting of one of the biggest wave pools in the country measuring 5,000 square meters and a series of adrenaline-pumping water slides and drops like the Riptide, Plank Drop and the Cyclone, this is every swashbuckler, pirate and water baby's fun destination to spend a memorable and fun day.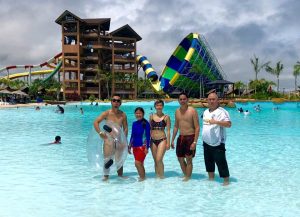 Waterworld | Iloilo
Featuring quite a number pool attraction such as river rapids, space hole, speed shooter, the loop and waterplay among others, Waterworld Iloilo is almost like the 1990's Kevin Costner film without the post-apocalyptic feels. What exists here are pure fun in the sun, the smiles and laughter of the guests who spend a wonderful day here.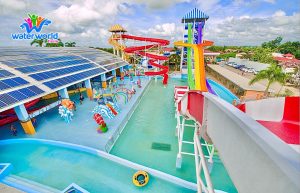 Aquaria Water Park | Batangas
Smaller compared to the others on the list but Aquaria Water Park is on a beachfront location in Calatagan and adjacent to its sister-property Crusoe Cabins where guests can stay for the night after a day of fun water activities and island hopping.
The main star of Aquaria's waterpark is a three-story slide that gently slid guests into a 5 feet deep pool. There are also swimming pools for kids that ranges from 3 feet to 4 feet deep.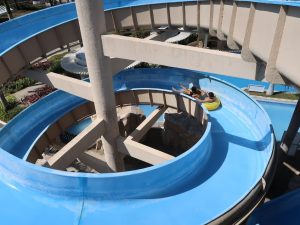 Splash Island | Laguna
Apart from offering the usual water theme park attractions that summons courage and deliver thrills, Splash Island has ramped up its amenities by creating adventure zones such as the Sky Bike path, wall climbing, zipline, paintball and even an overnight glamping accommodation that comes with various themes.
This added option to book a stay in one of Splash Island's glamping tents made the resort more than a waterpark. Travel blogger Karla Ramos described her stay as a "different kind of fun. In a way, it was somewhat magical. Having the luxury bell tent as our lodging reminds me of the phenomenal tent during the Quidditch World Cup in the Harry Potter and the Goblet of Fire movie, where the inside appears bigger than that of the outside"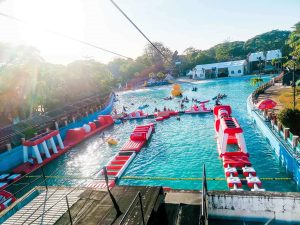 Adventure Beach Waterpark and Inflatable Island | Subic Bay
Subic Bay is gifted with two popular water parks. One of which is Adventure Beach Waterpark. Guests of all ages will enjoy the waterpark's various fun zones. There is nothing better than getting wet on the 3-story high Twin Twister Slide or let yourself flow along the Lazy River. For a more calming experience, there's the Aqua Serein that simulates rain showers with a soothing effect thanks to its sprinkler system. Designed especially for children are a few pools featuring shallow water areas. Among these are the Wading Pool with a seesaw and mushroom sprayers. One thing is guaranteed at Adventure Beach Water Park, you will get water-logged either way, whether you choose to ride the mama fish-sized slides and rides, or the smaller rides designed for the kids.
Inflatable Island's water attraction are set-up on the beach water itself, thus giving you the sense of having the whole ocean as your playground — a floating playground no less.
Spread over an area as big as 8 basketball courts laid side by side, you can have a go at unmatched water fun at one of its inflatable slides, bridges, swing and towers. Or, you can always launch yourself up in the air only to crash on the water one of the human launchers.